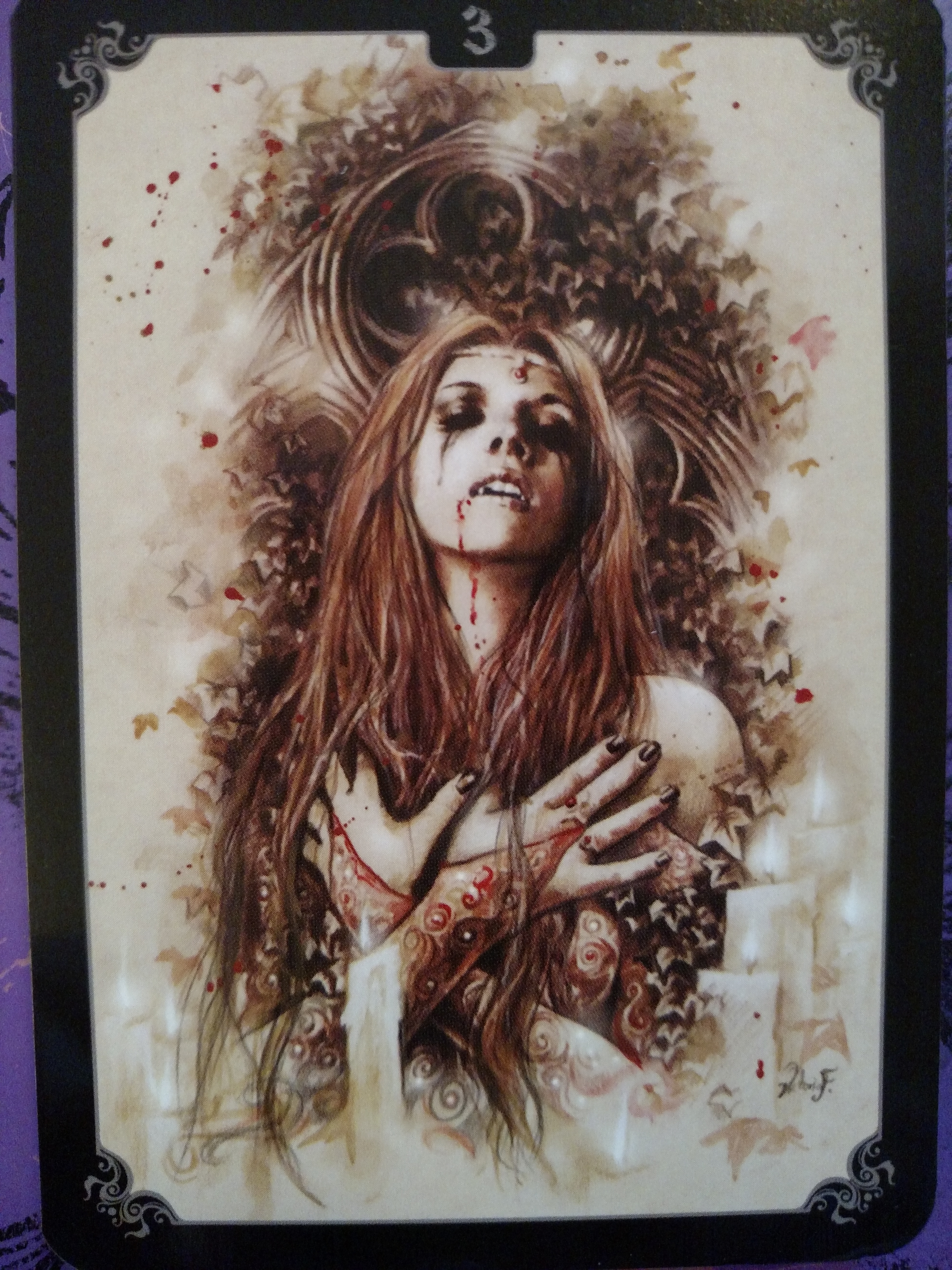 The Victoria Frances Oracle Cards are a 36 card deck by Spanish artist Victoria Frances with text by Kim Arnold.  Frances' artwork, in this deck and otherwise, tends towards the Gothic spectrum.  Thus, be prepared for dark imagery including vampires, graves and even a dash of blood.  That being said her artwork is also incredibly emotional showing not only sadness, pain and a little death but also wonder, freedom, happiness and even a little sensuality.  The cards themselves are a little bigger than standard tarot cards but are smaller than a lot of the oracle decks out there which for many makes them easier to handle.  They are printed on a heavy, glossy card stock that will keep them in good shape over many years of use.  Frances' oracle deck also comes in a good, hardy box which has room for both the cards and book and even has a ribbon attached to the inside of the box which makes the cards very easy to remove.  No having to shake the last card out of this box!  The book is also nice and comes with English, Spanish, French and German interpretations.  The pages of the book are also glossy which again will help keep it nice during years of use.

In terms of the cards themselves and the interpretations when looking at card 16, the image is a very detailed one.  In the sky there is a somewhat transparent image of a sad clown overlooking a European city by a river, with a bridge in the background.  In the foreground there is a sad woman holding an opera style mask on a stick.  The woman and mask are the only colored aspects of the card; the rest is in grey scale except just a little blood from the mouth of the clown.  Despite the sad looks on the face of the clown and woman, her mask is not covering her face so we have an interpretation through the book of finding one's own self.  Of having been through a lot and finally seeing one's own wonderfulness.  The tears and sadness can represent the difficulties one has gone through and the river can represent movement. 

Looking at card 3 however we have a vampire looking woman only, with some transparent candles in front of her.  There are mostly sepia tones except the gloves on the woman's hands and a little blood from her lip.  Here the book interpretation is about finding why only others see one's light shining; why does one not see one's own light shining?  So we have a lot of meaning in the muted light around the woman and the transparent candles.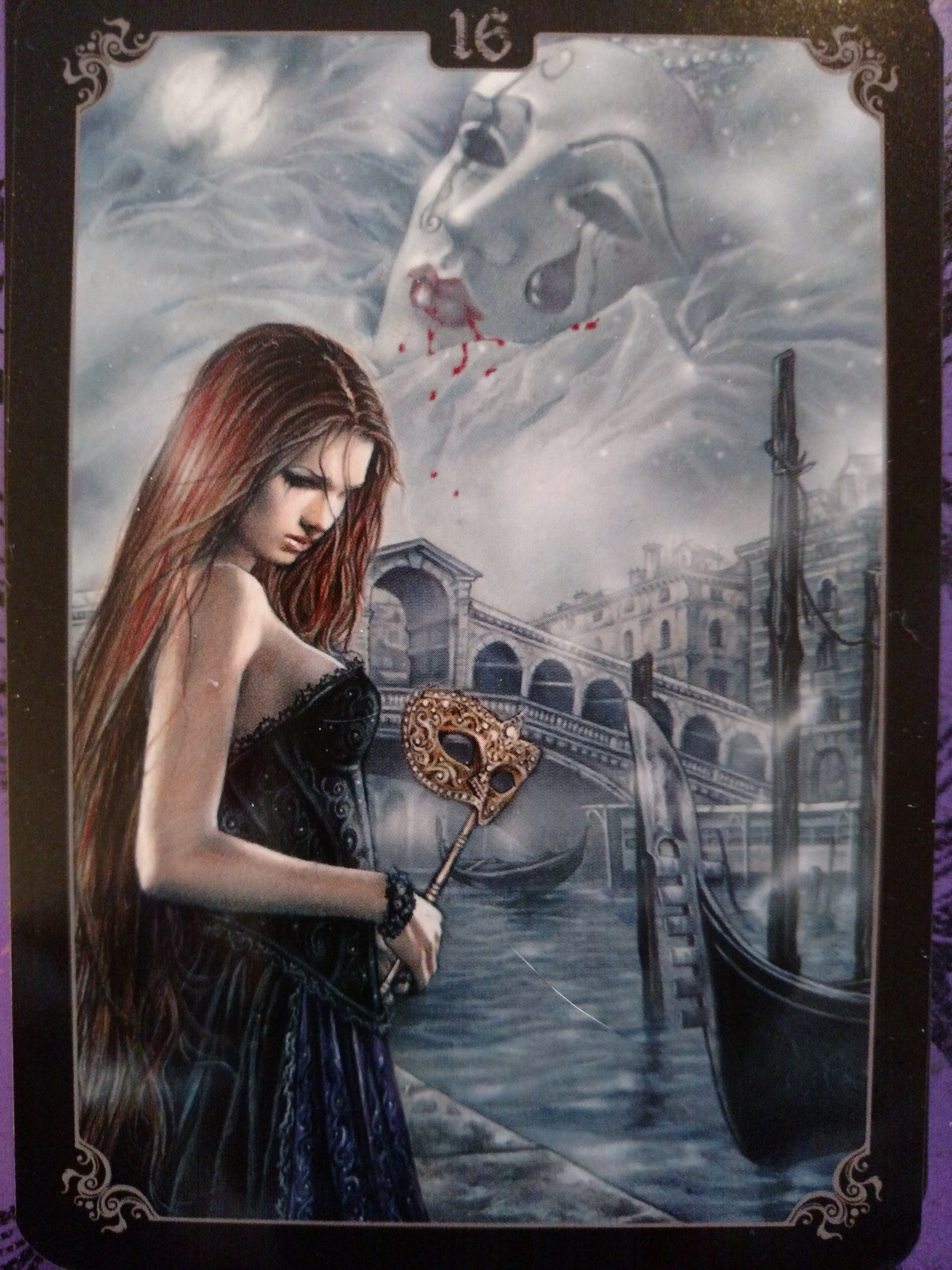 The mix of complex and more simple images on the cards is quite lovely and really leads to more accurate and detailed readings in my experience.  In addition to the interpretations the book also gives a title and short focus line for each card.  For card 16 there is "Under The Mask" for the title and "Confidence, Putting The Past Behind" for the focus line.  For card 3 the title is "The Mirror in the Candlelight" and the focus line is "Let Your Light Shine."

The very beginning of the book includes descriptions of a one card and three card oracle reading as well as one spread called the Arch Spread which is a five card spread.  There is also a short description of Gothic imagery and a small set of instructions for how to do meditations with the cards. 

This oracle deck is absolutely amazing.  The artwork is beautiful and Arnold's interpretations are accurate for the imagery on the cards but also allows for the personal interpretations of an experienced diviner.  The box makes for easy transport and the interpretations allow for easy one or more draws for divination.  So long as you like Gothic imagery I highly recommend this deck!  However if dark and/or Gothic imagery is not your thing, I would pass this one up.

~review by: Jessica Elizabeth

Artist: Victoria Frances
Author: Kim Arnold
Lo Scarabeo; 2015
36 Cards & Book; $19.95