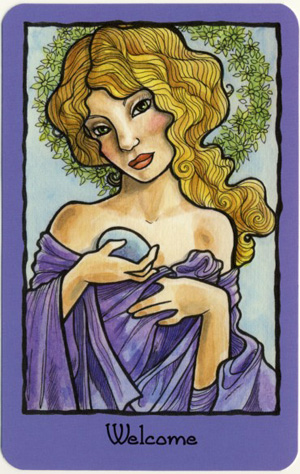 Adrienne Trafford is an award-winning artist with an international fan base. Her style reflects her artistic preferences for impressionists, illustration artists, and Japanese art and manga, as well time spent on artistic training in Italy during her college years.
This is an unabashedly woman-centered oracle deck. The 46 named (but unnumbered) cards feature caricatures of women that represent different facets of life, feelings, experiences and moods in an age-transcending way. The artist's illustrative style adeptly conveys her ideas through the character's pose, costume, background, and color combinations. A few cards are rendered horizontally rather than vertically – an unusual and rarely seen variation. The cards are a bit smaller than tarot cards and printed on good-quality cardstock. The lift-top box neatly holds both book and cards. 
The first page of the book lists the all of cards, which are numbered and in alphabetical order for easy look-up. The one-page descriptions in the booklet are meaning-filled. Each has a brief opening paragraph called "What This Card Says" followed by a longer section of "What This Card Means."  For example, Card 35, The Fragile Thread, opens with "Avoid harsh actions and words that harm your soul. Your body is sacred." The card's extended meaning is a reminder that it's easy to take precious, fragile things like love, health, happiness and life itself for granted. The reader is encouraged to be gentle with herself and to cherish others. This is a good thought and sensible advice.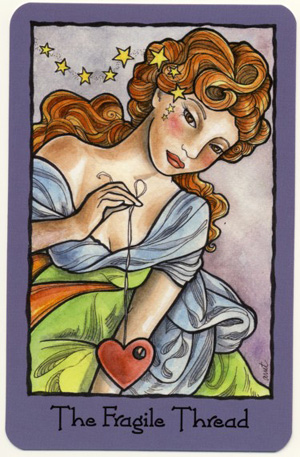 The deck includes the four Queens of the standard playing deck (Hearts, Clubs, Spades and Diamonds), and cards dedicated to a variety of personas like the Actress, the Guardian, the Puppet and the Vampire. There's a wide range of feelings (Appreciation, Passion, Hope, Loss, Patience) and moods (Drifting, Storms, Changes, Fleeting) that convey a spectrum of personal experience.
The companion coloring book offers another way to appreciate and participate in Trafford's art. Many women enjoy spending a little Zen time with coloring books that target adults, and this would certainly give the individual some additional insights into the oracle deck.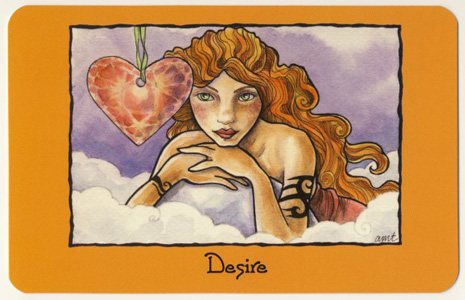 While this deck isn't esoterically deep or metaphysically profound, it is personable, comfortable, and well-planned. The images are nicely done and accessible. It's a deck that would be a fine gift for a young girl hitting puberty, or an older women riding the waves of menopause, and every woman in-between who likes getting readings but doesn't want to spend time learning how to read the tarot. It may not appeal to men, but it doesn't need to. This is the kind of oracle deck that will appeal to a woman who enjoys a quickie intuitive nudge when she's facing a personal question, questioning her persona, or feeling a bit baffled by life. Trafford is to be commended for her light touch and deep thoughts. Nicely done!
~review by Elizabeth Hazel
Author: Adrienne Trafford
Schiffer Publishing, 2011
46-card deck with 95 pg companion book. $24.99
Coloring book (46 black and white drawings), $9.99
Originally published in the American Tarot Association Quarterly Journal, Summer 2011 issue