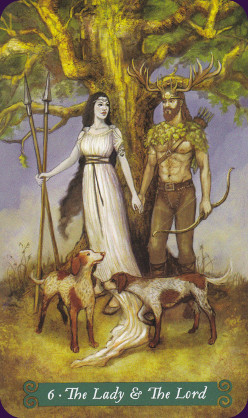 Ann Moura and Kiri Ostergaard Leonard team up to bring us the Green Witch Tarot deck. This deck has beautiful, warm, and rich colored imagery with no border on a heavy stock card. The era is obviously medieval but the timeless images allow us to connect with the cards without getting lost in the history. It gives you a chance to interpret and find their meaning relevant to the world today. Each card portrays an herb, flower or plant and an animal to correspond with the image and the title and number of each card is displayed in an easy to read format on a banner at the bottom of each card.

The seasonal correspondence is easily interpreted from the images.  The maturity of each character within the image helps to get a more in depth picture of the time of life, authority within and position held in each scene. Some cards even depict the Faerie within their images. This deck will be appealing, especially to those following a nature based practice.


Among my favorites is the image of The Crone-8. Character is an older wise woman standing beautifully side by side with the fierce and large lion. The power present within radiates off the stock. You can sense the knowledge, experience and the expertise within the Crones eyes and every wrinkle in her face. She stands proud and fearless beside the wild animal. She is confident having tamed this beast to walk side by side. The mutual respect between woman and animal cannot be ignored.

The companion book that accompanies the deck offers a black and white image of each card as well as a description of the card, its reversed meaning, and prompt words. After each description it also allows a lined page for you to make your own notes and observations. For beginners, it offers some tarot background and even offers a few spread layouts. It gives them an overview on how the tarot works, how to clear and charge the deck and then described how you may begin a reading. It is not incredibly detailed but it is enough information to get a beginner started reading or at least interested in learning more about doing a reading.


Although staying close to the traditional tarot style while giving a more modern flare, Ann offers a few new titles in the major arcana: 0- The Greenman, 1- The Witch, 2- The High Priestess, 3- The Earth Mother, 4- The Horned God, 5- The High Priest, 6- The Lady and The Lord, 7-The Battle Wagon, 8- The Crone, 9- The Holly King, 10-d The Wheel of the Year, 11- The Standing Stone, 12- The Oak King, 13- The Lord of Shadows, 14- The Sidhe, 15- Nature, 16-The Wild Hunt, 17- The Star, 18- The Moon, 19- The Sun, 20- The Harvest, 21-The World Tree. This deck's suits include the Pentacles, Athames, Wands and Chalices.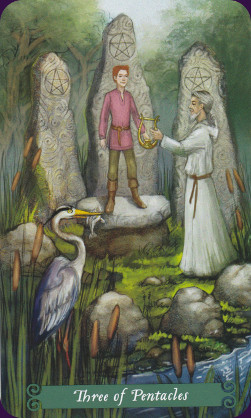 This is an overall fantastic deck and a great find for the green witch's toolbox. It is a great quality product at a reasonable price.

~review by Keri Nichol

Author: Ann Moura 
Artist: Kiri Ostergaard Leonard
Llewellyn Publications, 2015
pp. 240, $26.99