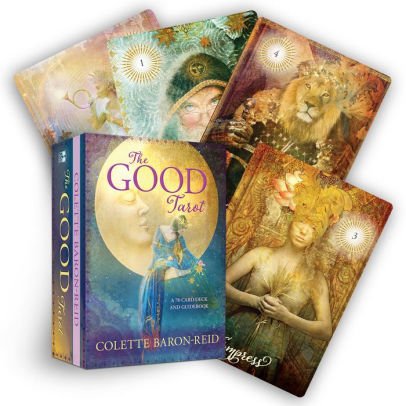 This is Baron-Reid's fifth deck project, the second partnership between her and artist Della Grottaglia, and her first tarot project. They previously produced the Wisdom of the Oracle Cards a 52-card oracle deck in 2015. The Good Tarot was inspired by the idea of merging a positive-affirmation oracle format with a tarot deck structure. This deck succeeds in its mission. The luminously beautiful cards offer a fairly close (but not slavish) rendering of the RWS illustrations through CG art by DellaGrottaglia. Most tarot readers will be able to use this deck with ease.

Baron-Reid's accompanying book introduction emphasizes the combination of divination and personal growth. Her hope was to create a simpler modern divinatory tool that focuses on co-creation and manifesting improvements in life without ignoring the reality of life's problems. The card descriptions are written in first-person affirmations with descriptions of the conditions that may exist around that card and ways of viewing the most troubling cards in a positive light. A person can utilize the affirmations if so desired.

The cards are truly gorgeous, a visual feast. The suits are named for the four elements and each suit has its own color palette that makes the cards distinctive in spreads. Fire cards feature yellow, orange, reds and pinks and browns. Air suit cards are predominantly whites, grays, and shades of blue. The Water cards are blues, greens and whites. The Pentacles are vibrant greens, brown, rust, verdigris, and muted golds. The Major Arcana cards have singular imagery on some of the cards, and five have been renamed: Lovers = Love; Death = Transformation; Temperance = Patience; Devil = Temptation; and Judgment = Call. The Court cards are represented by Kings, Queens, Messengers and Pages. The Queens are particularly striking and powerful in this deck and are well-balanced with the Kings of the same suit.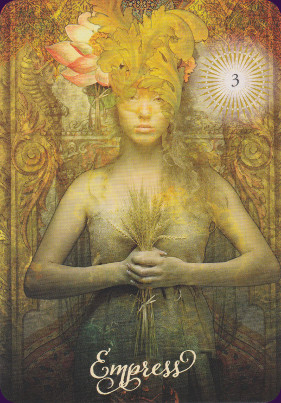 The deck is wonderful for personal insights and meditation when used in combination with the accompanying book. There are no reversed meanings. The user who is grappling with personal problems can benefit from the advice and encouragement the card descriptions provide.

The cards are slightly wider than other decks (3.5"x5") and the card stock is somewhat heavier and has a high-gloss finish. The first few shuffles take effort but the deck becomes more pliable with use. The high quality of the card stock will make this a long-lasting deck. The cards are book are packed inside of a durable two-part box.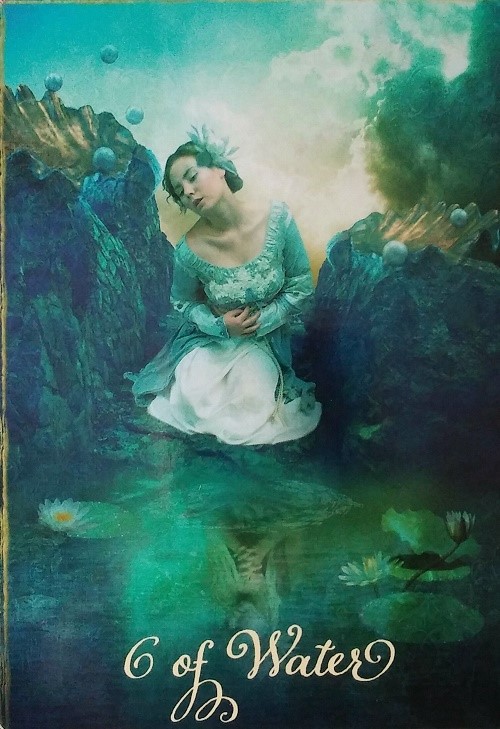 This deck will appeal to people who want a tarot deck for personal insights. I've had positive feedback about the deck when using it for client readings, and good reports from other tarotists doing the same. Clients respond very well to the imagery in face-to-face readings. This is a good deck acquisition with the potential for being of service on multiple fronts.

~Review by Elizabeth Hazel

Creator: Colette Baron-Reid
Artist: Jena DellaGrottaglia
2017, Lifestyles
78 cards (3.5" x 5") 120 pg guidebook
$20.23 (AMZ)