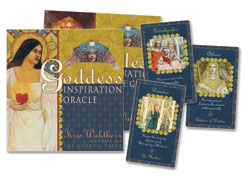 In a melee of carbon copy tarot and inspiration decks, Waldherr has created a simple deck which is easy to follow and use. No higher degrees needed in using this deck. She offers simple and quick ways to utilize these cards to gain guidance, inspiration and affirmation in your life. Waldherr presents the Goddesses as whole beings. She doesn't slot them into light or dark categories. She offers 80 Goddesses from a variety of pantheons. She pulls female role models from a variety of pantheons including but not limited to Norse, Greek, Roman, Asian, Celtic.
Each card offers a beautiful picture representing the Goddess. The name of the Goddess tops the card followed by the picture. Under this is a quote explaining the meaning of the card followed by a Goddess of description like Goddess of Inspiration, Mother Space, Queen of Pleasure, Feminine Wisdom and so on. These are simple to use and simple in form. Don't be fooled though because Waldherr has provided great depth to these Goddesses.
While the cards stand on very nicely on their own, Waldherr has made sure the book adds layers of meaning to the cards. Therefore if the reader needs further information this book can be accessed and will provide clarification without overwhelming the reader. The cards are listed alphabetically so they are easily found in the book. Each Goddess has a page showing a small black and white snapshot of the picture on the card. The Goddess of is listed followed by three descriptive words. Waldherr provides a very brief background paragraph and then a paragraph on how this relates to the Goddess of statement and the general divinatory meaning. These are easy to understand and offer a bit of background. In the intro pages under using the deck Waldherr offers places for further and more in depth insight for each Goddess.
In addition to the normal draw one a day card habit, Waldherr offers a basic four card spread which anyone can easily utilize. She does not dictate strict shuffling protocols or rituals to follow but advises the reader to make the deck their own in whatever way is most comfortable for the reader. She reminds the reader to be centered but does not dictate any complicated steps.
Waldherr provides a simple, well thought out Goddess deck which allows the reader to easily access their own intuition. She provides a well organized positive tool for accessing in depth the creative soul. This is a beautiful deck of cards to add to any collection. It will be easy for anyone to use whether a complete novice or an experienced practitioner. Waldherr has created a wonderful way to connect with a diverse group of Goddess and the divine feminine energy.
~review by: Eileen Troemel
Author: Kris Waldherr
Llewellyn Publications, 2007