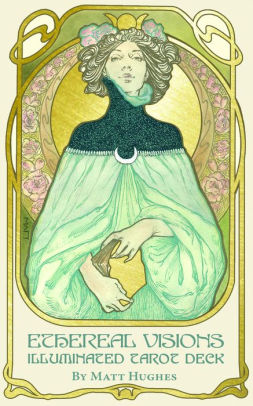 This 80-card tarot deck is based closely on the RWS model. The art was created by self-taught artist Matt Hughes. He was inspired by Art Nouveau and Golden Age of Illustration styles. Art Nouveau was a stylistic movement in architecture, furniture and predominantly commercial artwork that's persisted since it became popularized at the end of the 19th century.

The deck features metallic gold on the card faces, which adds bling to the final product. Hughes captures the romance of the organic shapes, elaborately draped figures and scrolled and entwined borders that make these artistic styles so alluring. The imagery is portrayed with a predominantly pastel color palette that emphasizes the graceful poses and draped apparel of the figures on the cards.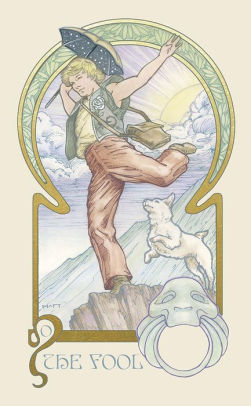 The suits are Wands, Cups, Swords and Pentacles. The court cards are King, Queen, Knight and Page. The Major Arcana cards have the traditional names. The pip illustrations echo Pixie Smith's RWS images, so this deck is an easy one for almost any tarot reader to pick up and use without much effort. The deck includes two extra cards The Well signifies sources of inspiration and knowledge that are accessible when the card appears in a spread. The Artist signifies strong visionary qualities and the capacity for creation. The reader may opt to include or set these cards aside according to preference, but I found them to be charming additions.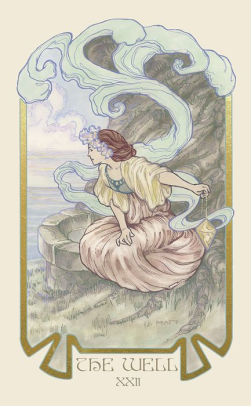 The cards are 3" x 5" and packaged in a sturdy two-part box. The deck comes with a 45-page little white book with upright and reversed card meanings (no spreads given). Each of the Major Arcana cards has a helpful descriptive paragraph about its overall meaning and conceptual content.

The Art Nouveau aesthetic offers timeless appeal because of its romantic view of space and negative space. This deck certainly encapsulates that ideal in the 80 cards. If this type of art is your cup of tea, this deck is highly recommended as a unique, easily readable tarot deck.

~Review by Elizabeth Hazel

Creator: Matt Hughes
2017, US Games
80-card deck with LWB in 2-part box. $21.45 (AMZ)
www.EtherealVisionsPub.com