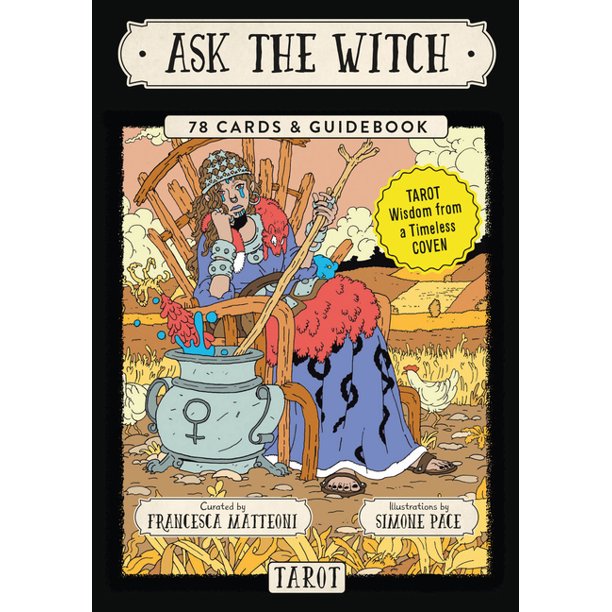 Ask The Witch Tarot is a 78 card deck with the guidebook. The card size is 3x5 inch each on a nice glossy cardstock. The images are wonderfully illustrated and bright with a pleasing aesthetic. The accompanying guidebook is also printed in full color with the card description and the positive and negative meanings. This deck follows the Rider Smith-Waite system with two main groups, Major and Minor Arcana.
The element that makes this deck unique is the Major Arcana cards feature famous witches from mythology, stories, and history. Some of the examples that can be found are Circe, Ceridwen, Morgan Le Fay, Hekate, Baba Yaga, Bastet, Befana and more.The Minor Arcana features the tools and symbols that correspond to the four elements they represent of Earth, Fire, Air, and Water. These cards are just as bright and colorfully illustrated as the Major Arcana cards.
The set of cards comes in its own small box in a tray, where the guidebook fits nicely on top. The outer packaging is a think cardboard box with a magnet end to keep everything nicely stored.
Ask The Witch Tarot is a great deck for the beginner or advanced tarot reader and is a great addition for your divination toolset.
 ~review by Amber Barnes
Author: Francesca Matteoni with illustrations by Simone Pace
Red Wheel, 2022
pp. 128, $24.99