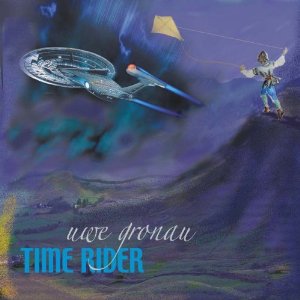 New to American audience, Uwe Gronau is well known in Europe where he has worked with a number of rock n roll artists as well as producing ten solo albums. Midsummer was his 'breakthrough' album, and Time Rider continues the journey. The music, which ranges from mellow-beats to meditative, has been embraced by new age music lovers, but his blend of acoustic and electronic sounds also contains elements of jazz, pop, prog-rock, avant-garde, techno, trance, chill, ambient and space music.

Conceived as a series of musical poems, the listener is taken into a variety of scenarios with a compelling collection  of songs. You'll want to move your body, bopping around and bobbing your head. The vocals are a part of the soundtrack, not taking center stage but adding to the complexity of the sound. On Time Rider, Gronau rejects preconceived and restrictive ideas of a musical album's makeup by combining instrumental and vocal tracks, and by including a solo piano piece and other quiet tunes alongside tracks with drum pulses or electric guitars. The eclectic mix of music builds anticipation for what comes next.

Gronau states, "As an artist, for every musical poem conceived, I must dive deep into myself. Time Rider is a collection of musical short stories which creatively explores aspects of time-riding. It is all about moving your consciousness to another time. Obviously we sometimes do this with books, films and travel to certain places like the pyramids or ancient cathedrals. But music also is an ideal method for shifting time consciousness. While everything we are and everything we do is happening in the present 'now,' nothing can stop our consciousness, our mind, from taking a time-ride to the past with memories and to the future with imagination. Take a listen and come along for the ride."

Highly recommended!

~review by Lisa Mc Sherry

Artist: Uwe Gronau
Time Rider Music Publishing, 2012
www.uwe-gronau.de
http://www.cdbaby.com/cd/uwegronau2

Please see our review of his other album, Midsummer, here.

P.S. High marks for his minimalist packaging!