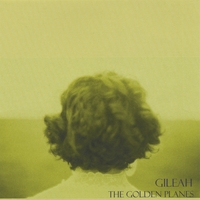 Gileah and The Ghost Train, a Florida-based group has been influenced by Sam Phillips, The Innocence Mission, Over the Rhine and C.S. Lewis among others. Their latest album, The Golden Planes, includes the talents of Gileah as singer/songwriter, rhythm guitarist, pianist and sometimes percussionist. Her husband Chris Taylor, in addition to producing The Golden Planes, accompanies her on guitar and provides background vocals. Kevin Woerner, a former twothirtyeight member, lends his talents on bass and percussion, and Ava Quigley sings background vocals.
The ten songs on this CD are a good blend for a relaxing listening experience. On my first listen through, I easily floated from one selection to the next. It's not that they were indistinguishable, but at first listen, they did seem similar. As I re-listened to the album, with more attention to detail, I found myself picking out subtle distinctions in each work.
Gileah's voice is very mesmerizing, and I really enjoy listening to the vocals. She has a range that goes from sultry to soaring and can drift into whispery tones that draw you into the lyrics. Maybe closer to folk music than new age, I could very easily imagine watching Gileah and The Ghost Train from the back of a theater setting. I particularly enjoyed the intimate feeling I had while listening to this CD.
I was surprised to see how short and to the point the lyrics were when I read through them. When you listen to the songs, the lyrics weave a complete tale. Tackling everyday issues such as communication ("Comfortable") or day to day weariness ("Just"), the group elevates mundane issues to elegant statements.
Comfortable: "I'm driving home tonight. I want to know what's on your mind. Why don't you tell me, Dear? I won't think you are stupid or ridiculous. I want you to know that what concerns you, concerns me. I think we could move past all this. I wish you would feel comfortable and talk to me. Your head will never be too heavy for my shoulder."
Just: "I won't be rid of my headache or my sadness today. Will I ever be rid of my backache every day stress of the working life just let me sit. Just let me rest my weary eyes, unclench my fists, just let me calm my body down. Just let me sleep here near the ground. And let me hope just for tonight, that tomorrow everything's going to be all right. Take me to a new place, love, sing to me a new song, baby fly me to the moon my angel.
Published on an independent label, you can visit the group on myspace.com and at www.greyhatrecords.com.
~review by Karen Phillippi
Artist: Gileah
Grey Hat Records.com, 2005
CD, $9.97