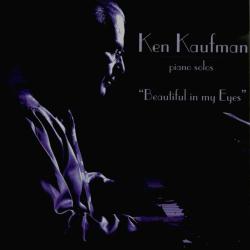 Allow Ken Kaufman to pleasantly take you to a bygone era. The choices of songs for his piano solos are the old favorites we once listened to so often.
With his talent on the piano and the skill of Mike Rorick in the mixing, one seems to hear a whole orchestra backing each melody.
Listening to his rendition of "Have I Told You Lately", "Misty", "Night and Day" and twelve other lovely songs, eases one into a relaxing state of mind. He also brings a smile to our face when he causes the piano to speak to us with a bit of humor as well.
For Mr. Kaufman, it was love at first sight when he saw this Japanese piano and one can sense how lovingly he strokes the keys. He says that, "Once in a lifetime, a pianist finds a piano that has no wrong notes." In this CD, Mr. Kaufman has no wrong notes either.
~review by: Jae Napolitano
Pianist: Ken Kaufman
Recorded and Mixed by: Mike Rorick
Producer: Relax by Swan Music Publishing
$14.98