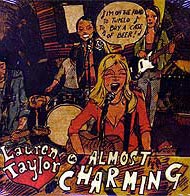 Combining country and rock 'n' roll like a marriage of Lucinda Williams and Ryan Adams, Ms. Taylor spins out a set of inviting alternative country tunes. We've got slide guitar and a twanging cadence in every song, and the lyrics are more like stories than songs.
Although I'm not usually a fan of 'raw' production (for most artists, a couple of takes is a good thing) on this album it is a positive. The feeling it evokes is like hanging out with your favorite garage band, or listening to a newcomer at the local bar.
This is a great debut album.
Artist: Lauren Taylor
2005