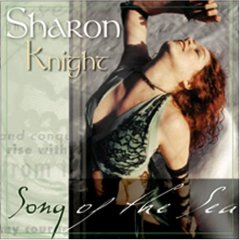 Can I say that I love this woman's music? When first I heard this CD of Celtic traditional and original music, my head filled with clichés. But clichés are true so very often. She takes us away to another time, another place, another world and gently pulls the strings to our emotions. She sings with abandon, with all of her senses alive, while she is awakening our own senses as well. Her voice has good range and she knows how to use it to keep our attention every second. At times, the lower range of her voice has the ability to cause a vibration in one's chest.
One of the songs on the CD is a duet with an unnamed male vocalist. His somewhat gravely voice enhances and counterpoints hers and would stand well on its own, too. It's an emotion stirring collaboration. The music runs the gamut from heart rending to joyous. The mostly acoustical instruments truly create mystical realms within which Sharon Knight uses her talent to draw us to her state of being. The piano lilts through the percussion instrumentals, rippling as would wind through water.
This is the first of Sharon Knight's music that I've heard, but it will not be the last. I've already gone to her website to find whatever other music she has available. I would urge you to do the same.
~review by: Jae Napolitano
Artist: Sharon Knight
Trance Jam Records, 2004
CD, $15.00