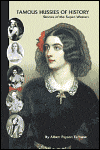 If the title didn't grab your attention I don't know what will. The essays in this book were written for a series of articles for Ainslee's Magazine in 1916, and the stilted language of the time is good for quite a hoot. A dozen "super-women" are profiled here, and although you may be tempted to get the red pen out for editing (the punctuation is quite askew), the chapters make for an interesting read. Some of the hussies are legendary figures such as Cleopatra and Helen of Troy, and others include Madame Jumel, Madame Du Barry and Lady Hamilton.
While at times Terhune seems in awe of the powers yielded by these ladies, at others times he can hardly veil his contempt towards them: "George Sand, who numbered her admirers by the score – poor Chopin in their foremost rank – was not only ugly, but disgustingly mannish." However, when it comes to a common denominator amongst these super vixens, bluestockings can take comfort in this: "It is odd, and possibly – or possibly not – significant, that of the world's superwomen, more have leaned towards literature than toward any other one pursuit – the gift of writing comes near to being their one common trait than do beauty and all the other hackneyed siren charms." Pity Napoleon Bonaparte!
Various noted hussies manage to make appearances in his life, chapter after chapter. Deadly duels also punctuate the stories with alarming regularity, as these superwomen apparently incite fencing matches at the drop of a hat, or handkerchief (if I remember the custom properly). And one wonders how Terhune deduces that Cleopatra had a pug nose. There is a wonderful tale regarding Ninon De L'Enclos ("the premiere siren of two centuries"), where at age 20, she encounters a stranger in black who presents a vial filled with a pinkish liquid to her. "The gift, of youth and beauty, are yours…One drop a day from this phial, in your bath, will keep you young, will keep you beautiful, will retain for you the love of men." The mysterious stranger also tells Ninon, "You will see me again just three days before your death." Later on we learn, "As late as her ninetieth year men made vehement love to her. At an age when most women are withered crones, she still broke hearts." Does she re-encounter the man in black? Only one way to find out!
This is a fun read, and the datedness adds to the fun. I bought this book along while undergoing a test at the doctor's office, and the nutritionist stopped to mention she had heard it was quite good. I also brought it along to my hair stylist's appointment, and while I waited, she caught a glimpse of the cover, asked about it and then determined she was definitely buying it. It makes a great gift, with an immediate reaction to the cover and title, and might just make a great gift to yourself.
~ review by Diane Saarinen
Author: Albert Payson Terhune
Reissued by Ephemera Bound Publishing, 2005
192 pp., $16.95