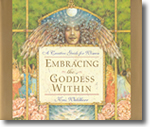 This book was my introduction to Kris Waldherr's work and I am greatly impressed! Embracing the Goddess Within is a feast for the mind and the eyes. The illustrations are truly inspiring, and they make this book such a beautiful piece of work that it is a shame to put it on a bookshelf. This is not meant to be a deep look into the lore of various goddesses. In the introduction, the author explains the true purpose of this book as being an exploration of the question of how we understand the feminine quality we call goddess, and a tool enabling us to find our own answers about embracing the goddess within ourselves. It certainly does a wonderful job!
The book is divided into six stages of a woman's life: Beginnings, Love, Motherhood, Creativity, Strength, and Transformation. Each section contains four or five goddesses from cultures around the world related to that particular stage. Each goddess has a short description along with a ritual to invoke her power, wisdom, and spirit and a short list of other goddesses possessing similar attributes. The book also includes a useful index cross-referencing the goddesses included in this book and the contemporary issues with which they are connected.
All of this combines to produce a book that is as useful as it is beautiful. It was an absolute delight to read, and I am sure I will be enjoying it for years to come. I highly recommend Embracing the Goddess Within to goddess women everywhere.

~review by Jennifer Erwin
Author: Kris Waldherr
Beyond Words Publishing, 1997
pp. 112, $17.95