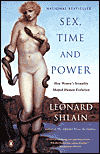 This is a hugely complex book is a cornucopia of information. It's written with intelligence and wit (page 198: woman noted "with keen interest how pliant a man became when his member became stiff"). Shlain has done his homework. There are both explanatory footnotes (page 221: "The penis was an innovation that first made its appearance two hundred million years ago.") and endless bibliographical endnotes.
Shlain's basic thesis is that, early on, woman, whom he names Gyna sapiens, taught man, Homo sapiens, to exchange red meat for sex so that she could restore the iron lost from her body through her monthly bleeding. Not only that—when Gyna sapiens figured out that her menses cycled with the moon, she also taught Homo sapiens to tell time and plan ahead. (One might wish she'd also taught him to ask for directions.) Human speech was invented so that Gyna and Homo could talk about when and where they would have sex after they'd devoured the red meat.
Leonard—give us a break. Is biology always destiny? How many readers remember the 1970s, when corporate executives, military leaders, and politicians all pontificated that women's "time of the month" made them hysterical and unfit to make important business decisions, take command, or hold elective office? Biology is NOT destiny, the feminists roared. We are more than our wombs. We have brains, hearts, hands, and feet, and we can use them every day of the month.
Thirty years later, Shlain is seriously writing that Natural Selection (evolution) made humankind different from every one of the millions of other species on the planet. One of these differences is menstruation, which made Gyna sapiens crave red meat because that's the best source of iron and essential amino acids, which led her to persuade men to be big and strong and hunting, which (eventually) led to candlelight dinners of filet mignon and putting out at the end of the date.
The preceding paragraph is a vast oversimplification of Shlain's thesis. He builds his case with meticulous care. Along the way, he explains how Mother Nature adjusted the mechanics of the human womb so women would survive giving birth to babies whose heads were big enough to accommodate their human brains. How, millennia before Yahveh spoke to Abraham about covenants, grandmothers invented circumcision. Why people began to masturbate. Why approximately eight percent of Homo sapiens are gay, color-blind, left-handed, or bald, and why these characteristics originated among Pleistocene hunters. That Homo sapiens has "degenerated" from being just a parasite of the planet earth to becoming a "planet-devouring pathogen." Why men are anxious and fear death, but fear being laughed at by women even more. How women's Faustian bargain with Mother Nature to replace their lost blood and get men to be good fathers assisted in the rise of misogynism and patriarchy.
But still … humankind evolved and civilization arose just because women bleed and ovulate and bear children? That's women's motivation for everything they do? Their only motivation?
But still .... Not tonight, Leonard. I feel a headache coming on.
~review by Barbara Ardinger, Ph.D.
Author: Leonard Shlain
Viking, 2003