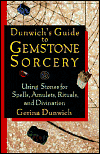 Written from the perspective of a Witch, Dunwich's Guide is best used as a reference source, and not a book one reads from cover to cover. It would also be a wonderful coffee table book to set out as it can be read in small portions anytime that one has a couple of free moments to fill. Picking it up and opening it at random, one is sure to find something of interest to hold their attention.
Drawing information from a wide array of sources both modern and ancient, Gerina quotes from some of the most well known and respected names within metaphysics including such modern practitioners as Melody, Scott Cunningham, Silver Ravenwolf and Steve Savedow, and from such ancients as Francis Barret and Pliny to name just a few.
This book is a complete reference unto itself with an abundance of examples for gemstone spells, rituals, and the construction of charms and amulets, along with their usage. There is also a wide array of information on the properties, lore and various associations of gems and stones used down through the ages for their efficacy in achieving their desired results. This book is concise including numerous tables for quick and easy reference, appendixes, and a complete easily used alphabetical index. Ms. Dunwich has done a wonderful job of collecting and compiling all the information that any Witch might need to realize the fullest potential held within the magick of stones, gems and crystals.
~review by Lone Eagle Eye
Author: Gerina Dunwich
New Page Books, 2003
pp 221, $14.99