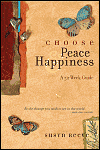 On the front cover of this book, Ms. Reeve cites a quote by Mahatma Gandhi: "Be the changes you wish to see in the world." It is apparent that Ms. Reeve held firmly onto that thought as she wrote this book.
Choose Peace & Happiness is not supposed to be read from cover to cover all at once. Instead there are fifty-two chapters of various ideas combined with actions that correlate to the main theme of the chapter. Each chapter is broken down into seven segments with the corresponding actions, one segment being for each day of the week. If one does not want to follow this suggested regimen for reading, opening the book at random and following one of the guidelines on the page you opened to is also another way in which to utilize this book.
In reading and utilizing the various ideas and actions, one learns how to detach and let go of inhibiting beliefs and to focus on what brings peace and happiness, and to acknowledge all of one's accomplishments.
If peace and happiness is important to you, for your life, and for others, you cannot go wrong buying this heart-warming and heart-felt book. Everyone who reads this will find some measurable insights in which contentment and fulfillment are possible in all of life's circumstances, thusly sending harmonious ripples of peace and happiness outward to the consciousness of the collective all.
~review by Lone Eagle Eye
Author: Susyn Reeve
Red Wheel/Weiser, LLC
pp 191, $16.95