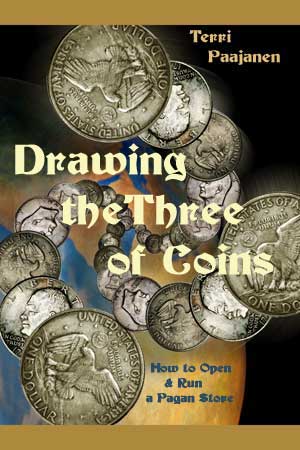 Described as "a Pagan business book, but with the focus on the Pagan, not the business. It doesn't teach you how to create a business plan or a map out a budget. Nor will it tell you how to incorporate your business, do your taxes or file for insurance. These business basics are covered extensively in every single entrepreneurial book out there."
It succeeds. The author, Terri Paajanen was the owner of a successful pagan store, which in and of itself is a high recommendation for the book. Her personal knowledge and experience come through clearly, along with a readable style full of humor and practicality.
Covering everything from recharging stagnant energy inside the store to the financial arrangements made with readers and teachers using the space – even to choosing a good name! What is not covered are things like getting a business license, or zoning restrictions, or even to formulating a proper business plan (maybe to get a loan) so don't think this book is complete. (But, those items weren't promised, either.) I was especially delighted by the pagan-centric issues that the author deals with: things like proper attire (you'd think it would be different from Macy's wouldn't you?) and how to deal with people who expect you (or your staff) to do spellwork at their request.
Inventory suggestions, events (for big city locations only!) the ups and downs of handmade items, public relations are all covered.
I recommend Drawing the Three of Coins to anyone considering starting their own pagan store.
~review by Lisa Mc Sherry
Author: Terri Paajanen
Spilled Candy Books, 2005
$14.95, pp. 150