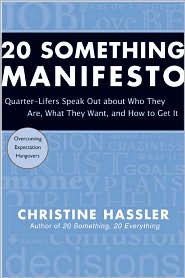 20 Something Manifesto is an interesting collection of advice and opinions designed to give people in that age range the reassuring sense of not being alone. In that, it works very well. More than that, it is downright practical.
The author, Christine Hassler, has a way of making the reader feel as if s/he is sitting down with friends and sharing information – it's a coffee klatch/night out with friends feeling. But you're lucky enough to have a group of friends who have done everything and are willing to share their experiences with you so that you don't have to make their mistakes (even if you find a few of your own!) These friends don't lie, they don't pile on the bullcrap, and they don't hold back their bad parts of their experiences. Their stories of toxic relationships, crippling debt, and wrong choices made at the worst times are spot on and can help the reader avoid making those same decisions. From falling in love (or hormones) to finding the perfect job (that turns out to be a dead end), buying a house or barely making rent – Ms. Hassler has a story to tell and practical advice to give by way of sharing what other's have done.
Although I'm a long way from my 20s, reading the 20 Something Manifesto brought back a lot of memories, and although on the one hand its reassuring to know that what I was going through is so typical (there's that 'I'm not alone' feeling) it is also a bit sad that so little has changed. There is so much pressure – from within and without – to find the 'right' job, the 'right' relationship, the 'right' home; it's amazing so many of us make it through to find our own way in the world.
If you're looking for validation that even though you don't have it all together you're doing OK, 20 Something Manifesto will provide it. This book will inspire you to accurately assess where you are and where you want to go, chucking out the dross of other's expectations so that you can find your true desires to manifest as you go through life.
Highly recommended.
~review by Lisa Mc Sherry
Author: Christine Hassler
New World Library, 2008