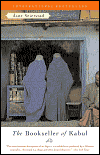 Few Western journalists have experienced living in a traditional Afghanistan family and fewer still have had the freedom to see how each gender functions in the segregated daily existence.

After spending six weeks with the Northern Alliance Serierstad arrived in Kabul where she met Sultan Khan, the owner of a bookstore and proposed writing a book on his family.
Donning a burka, the cloak of anonymity, she travels with Sultan's two wives and the women of his household.

As a Western woman she is privy to the male dominated social world as well.

While the title of the book refers to the family patriarch, I found the true depth of the work dealt with the women of the house and Sultan's oldest son.
Masur, Sultan's young son, lives under the tyranny of a strong-willed father. Without the freedom of choices how can he learn to be a man?

Let alone a man who makes wise decisions based on respect for himself and others.
We are introduced to Leila who craves to be a teacher in a confused world where she is suddenly thrust into a classroom atmosphere with young men after having not been allowed in the presence of men other than her family.

Her fierce devotion to her aged and frail mother is touching in a society whose only value for women is when they are giving birth to sons.
Sharifa, the first wife, is exiled from her home to Pakistan when her husband takes a younger wife.

Sonya, the second wife, enjoys the favor of Sultan, knowing if she gives birth to a daughter that she too will be cast aside.
Amid stories of murder and suicide and where love is taboo we see a society where it is safer for a woman to travel in the stifling fabric of a burka, unable to see her feet or where she is stepping, than to face the displeasure, ridicule, and abuse for showing her skin.

Skin pale gray, yellow or sickly white from lack of exposure in Kabul, a city where the sun shines almost every day.
~review by Denise Bell
Author: Äsne Seierstad
Little, Brown and Company, 2004
pp.28 7, $12.95