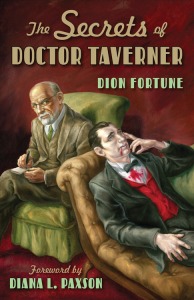 Dion Fortune (1891-1946) is a key light in the 20th century Western Mystery tradition and the founder of the Society of Inner Light. She was a prolific author, and her non-fiction works include Psychic Self-Defense and Practical Occultism, co-authored with Gareth Knight. Her fiction titles include the famous Moon Magic and The Sea Priestess, which are the sources of various Wiccan rituals that are still used today.
Dion Fortune (Violet Mary Firth) spent the years after World War I training in psychology with an Irish occultist and physician named Dr. Moriarty. She had an opportunity to observe unusual cases and the doctor's unconventional methods of treatment. Although she wanted to share some of these bizarre accounts, she realized that sometimes true stories fare better when presented as fiction. As Fortune writes in her introduction, these stories are "all founded on fact…composites of actual happenings" that she decided to "put in the form of fiction because, if published as a serious contribution to science they would have no chance of a hearing."
Faced with the prospect of public, scientific, and medical skepticism, Fortune cleverly framed these curious cases in the detective story form used by Arthur Conan Doyle for his Sherlock Holmes mysteries, a fictional form quite familiar to and popular with the reading public.
This was a successful strategy. Fortune is an engaging writer who spins her tales in a mesmerizing fashion. Dr. Taverner, who is modeled on the real Dr. Moriarty (not Holmes' fictional archenemy of the same name), is an occultist and doctor who takes cases that other doctors are unable to cure. Some patients are placed in his private nursing home for observation and treatment. At the beginning of the book, a young physician named Dr. Rhodes seeks a quiet place to recover from his stressful service in the Royal Army Medical Corp during the war. The medical agency sends him to Dr. Taverner to work as the superintendent for his nursing home. At his first interview, Taverner explains that his practice centers on "those regions of psychology which orthodox science has not as yet ventured to explore. If you work with me you will see some queer things, but all I ask of you is, that you should keep an open mind and a shut mouth."
Dr. Rhodes is fascinated by Taverner and his unusual methods, and acts as a recorder of events much as Dr. Watson records Holmes' case. Twelve case studies are presented in the book; by the end the reader will wish there were more.
Taverner's patients exhibit a range of problems including vampirism, curse-spells, karmic debt issues, and unwilling astral travel. Some fascinating cases focus on the difficulties faced by elemental creatures born into human forms. The "cures" the doctor effects are, to say the least, unconventional. It's clear that Taverner's intent is to match the remedy to the patient's best interests, but sometimes this falls far outside the family's hopes. In the curse cases, Taverner (himself a high adept) applies his own form of metaphysical justice simply because regular law enforcement and courts have no mechanisms for dealing with black magic. As he explains to Rhodes, "I would make the punishment fit the crime. Occult offences are always dealt with by occult means." Dr. Taverner's occult affiliations and practices are kept shrouded, but there are still some fine nuggets of occult lore contained in this book.
Although The Secrets of Doctor Taverner is eighty-five years old, this book, like the Sherlock Holmes mysteries, is still a fascinating book that contemporary readers will greatly enjoy. Highly recommended as an entertaining book of medical detective stories with a metaphysical spin.
~review by Elizabeth Hazel
Author: Dion Fortune.
Weiser, 2011 with foreword by Diana L. Paxson
First published in 1926. Published by The Society of Inner Light, 1989
pp. 222, $16.95