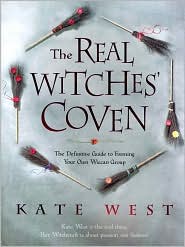 First off: the author has a whole series of 'Real Witches' books, and by real she does not mean 'one true way' but instead 'real life'. You know, the one with a full time job, children, bills, and other hassles.
That said, this is an absolutely 'ok' book. Not great, not bad, just right in the middle. It's something more than a '101' book, but far from a '201'. I've been running my own group for a decade now, and so I didn't find anything here that was particularly helpful. Thinking back, it wouldn't have helped me in my early years as an untried leader. What West's book suffers from is the ones that came before: Amber K's Coven Craft specifically, but also Magickal Connections.
This is an enjoyable book, full of practical advice and well-crafted exmples baed on West's personal experiences. It is not dogmatic, there is no perfect way to do anything, just suggested ideas and courses of action.
Recommended.
~review by Lisa Mc Sherry
Author: Kate West
Llewellyn Publications, 2009
pp. 303, $17.95