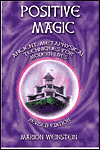 Although I didn't discover Positive Magic when it was published in 1978, it's been a well-thumbed member of my bookshelf for almost 20 years, despite a chapter on the history of witchcraft that was long out of date. When I heard that Ms. Weistein was revising it for the book's 25th anniversary, I was hopeful that she would update the troublesome portions and fearful she might accidentally change something crucial.
But I am pleased to report that my worries were unfounded. While some of the information and references have been updated, the book is still basically the same gentle and friendly introduction to the occult and to magick that made it one of my favorite introductory books -- especially for people who were a little hesitant about getting involved in something like divination or casting spells.
Unfortunately, the chapter on the history of witchcraft in this section was barely revised; it still talks about the works of Margaret Murray as if scholars consider them authoritative.

As well, she states (on p. 76) that, "Witchcraft is, quite specifically, an ancient Celtic magic-religion."

It isn't. However, this is really the only major disappointment in the book.
While the first section is mainly discussion, the second gets very practical, covering astrology, Tarot, and the I Ching as well as "Words of Power" magick. While the author is Pagan, her magick instructions often come with both Pagan and "generic" examples, and the generic wording would be acceptable to many open-minded non-Pagans. The magick Weinstein teaches is simple and among the forms least likely to backfire or go astray. It does not require expensive tools, but is still very effective. It can be a first simple step on a lifetime study of magick, or all the magick one ever needs to know.
~ review by Lisa Mc Sherry
by Marion Weinstein
New Page Books, 2002
pp. 302, $14.99