As explained in the introduction, "under the roses" is a euphemism for buried secrets. This deck contains 40 cards based on the Petit Lenormand. The 40 cards include six significator cards, with alternate Child, Gentleman, and Lady cards that can be used for the client or shuffled with the complete deck.
The Lenormand tradition dates back to the 19th century. It amalgamates aspects of regular playing cards with the divinatory nature of the tarot, but is neither. There are several European versions of Lenormand cards, and the reading techniques are unique to the particular decks involved.
This particular deck is rather retro, with a Victorian ambience. The images include grays and sepia tones that give it an antique feel. The cards include a number in the upper left corner, and a playing card designation in the lower right corner. Each image is bound within a black border decorated with stylized roses. All of the cards have titles at the bottom, so they're easy to identify. The cards are a sweet petite 2 ¼" x 3 ½", so the deck is easy to handle and tuck in a pocket for carrying.
The 55-page little white book offers brief but useful card meanings. Lenormand cards have a range of meanings that is influence by the card's spread position. Tips on reading with this deck proceed from page 27 through the end of the booklet. Several different spreads are described, from very simple one and three-card spreads through the Petit Tableau (18 cards) and the Grand Tableau (all 36 cards). A few more advanced techniques are described. The author wisely recommends that beginning readers look around on the internet for further information on the subject. There's plenty out there to find, too.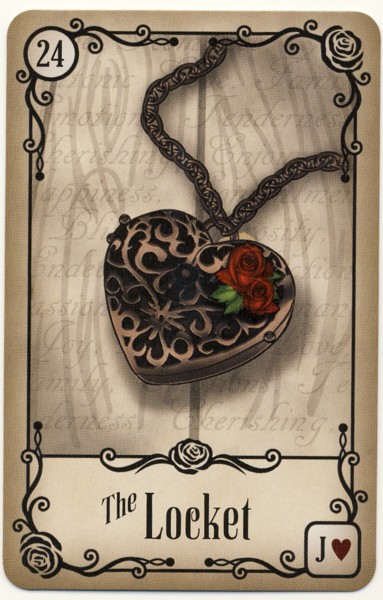 It's surprising how much can be done with such a tiny divination deck. The art work is quite fine and holds up very well with the small size of the cards. The illustration style is concise and the color palette is restrained. This succeeds in keeping the imagery coherent and consistent from card to card.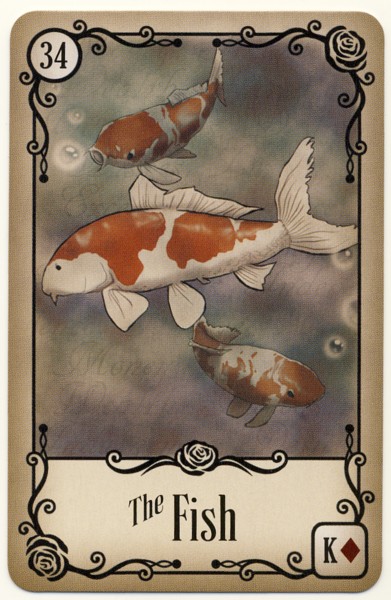 The Under the Roses Lenormand is a charming petit Lenormand deck with very accessible imagery and a surprisingly complete little white book. This lovely production will be a welcome addition to growing Lenormand deck collections. It's a good first acquisition to those who are new to the Lenormand reading style.
~review by Elizabeth Hazel
Creators: Kendra Hurteau and Katrina Hill
US Games Systems, Inc., 2014
40 cards and LWB in a tuck-box, $14.00