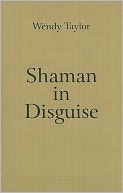 Shaman in Disguise, by Wendy Taylor is a wonderful book telling the inspiring story of the author's journey into Spiritualism and Shamanism.  Taylor takes the reader on a journey through her life, starting at the very beginning, her very first unexplained supernatural experience, through modern day. 
Ms. Taylor writes in a wonderful, friend-next-door manner that makes it as if she's right there, verbally telling the reader her story.  Her familiar style of writing also breeds much empathy in the reader, causing one to feel for her as the reader follows her story.  The most notable thing, I believe, of this story is that it's very real; it's one that anyone could have a similar experience of in their own life. 
Anyone who has had a life changing spiritual experience should read this book.  Ms. Taylor's courage and strength to continue pushing through, despite the disbelief of her family as well as the lack of community support and information sources available at the time of her original experiences is very inspiring.  I highly recommend this book for anyone interested in personal stories of Spiritualism and Shamanism. 
~reviewed by:  Jessica Elizabeth
Author: Wendy Taylor
O-Books 2010
pp. 210, $22.95