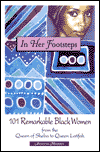 In Her Footsteps
provides capsule biographical sketches of over a hundred black women around the world, from the Queen of Sheba to cancer researcher Jewell Cobb.

Here, we see not only their lives, but their lasting influences on the lives of others. The blend of well-known historic figures with black women who have made invaluable contributions in their careers and fields makes for a diverse and highly recommended collection.
Some women are from the ancient world, others from more modern times.

We see activists and influential wives, innovators and social commentators.

Each story is presented in a short format, and the only negative I could see is that the reader is frequently left wanting to know more than this small book has room to provide.
I think Ms. Madden has done a spectacular job of researching these glorious women of African descent from all over the world. I would never have known the wide spectrum of accomplishments, and the variety of locations, of these incredible women.
~review by Lisa Mc Sherry
by Annette Madden
Conari Press, 2002
pp. 260, $15.95