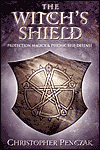 The Witch's Shield is another of Christopher Penczak's remarkable books, complete with a CD of the meditations and rituals. Described as a 'take home class' Penzcak's intent was to create a magickal classroom as close to what he provides in his many in-person lectures. He succeeds.
Beginning with a description of various forms of energy drains, few of which could be seen as a deliberate attack, the reader is taken through a course of psychic hygiene and thorough instruction in constructing personal protection through symbols, visualization, and physical talismans. Only then do we look at the ethically more difficult aspects of binding and banishing. The final chapter is a lucid discussion of the nature of good and evil that I found thought provoking (and made me wish I lived near to Mr. Penczak – we'd be drinking tea and talking very late into the night with subjects like this to chew over!).
Overall, the tone is one of 'make sure you aren't drawing negative energy to yourself before you go blaming another,' and its clear that there are many ways we can unconsciously draw negativity to ourselves. What can feel like an attack is more often misdirected or misguided energy without evil intent. This attitude alone was one I found refreshing.
The CD is a wonderful companion to the book, making this a great value all around. I strongly recommend The Witch's Shield.
~review by Lisa Mc Sherry
Author: Christopher Penczak
Llewellyn Worldwide, 2004
pp. 204, $17.95