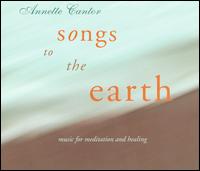 From the first notes of the Native American flute, through the drumming and Ms. Cantor's rich chanting this is a lovely album, primal and profoundly moving. Songs to the Earth boldly combines the beauty of Gregorian chants with Native American flutes, adding just a hint of an Eastern sensibility. Cantor has expertly produced a work of soothing, spirit-filled songs that celebrate the Earth.
The album opens with "Gaia Dreaming," featuring birdsong, evocative cello, and a variety of subtle percussion. Water Blessing continues the feeling, drawing the listener deeper into a trancelike state of enjoyment. "To the Great Mother of Compassion" resonates with Patrick Shendo-Mirabal's chanting, providing a distinct counterpoint to Cantor's rich vocals (it's also one of my favorite songs on the album.) All of the songs are long, with most being more than eight minutes; they avoid being boring, however.
Originally trained as an opera singer in Vienna, Cantor has developed a unique style of soulful emotive expression with her singing strengthened by technical expertise and classical studies. On Songs To The Earth she is accompanied by top musicians from Santa Fe, New Mexico: Native American flutist Patrick Shendo-Mirabal (who has performed with his brother Robert Mirabal, Kenny Aranoff, Larry Mitchell), cellist Michael Kott (Sons of Ganesh, Robert Mirabal, Moontribe), percussionist Mark Clark (Cat Stevens, Ottmar Liebert, John Popper), percussionist Mike Chavez (Ottmar Liebert, The Jon Gagan Trio, Jono Manson), and percussionist Gregory Gutin (Sita, Jeremy Bleich).
Described as "the ancient Christian tradition of Gregorian chant, alive in Annette cantor's rich voice, meets the native American flute in the high desert of new mexico . . . inspired by a buddhist blessing"* this is an incredible album that I highly recommend.
~review by Lisa Mc Sherry
Artist: Annette Cantor
2009, Source Being Productions
www.annettesings.com
* The blessing is:
earth, air, fire, and water
combine to make our home
numberless beings give their lives and labor that we may thrive
may we be nourished so we may nourish the earth our home