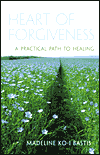 As the title implies, Madeline, an ordained Buddhist Priest, has written about forgiveness, what it really means, how it helps to heal our lives and relationships. It is apparent that this book is written from the heart with numerous chronicles from her personal experiences upon the path of transformation to peace and harmony.
Madeline's approach to healing is done in a step-by-step systematic method, utilizing quotes, affirmations and meditations. Vigilance in the honing of our awareness and actions is stressed. Quoted words of the Buddha: "Our life is shaped by our mind; we become what we think. Suffering follows an evil thought as the wheels of a cart follow the oxen that draw it. Our life is shaped by our mind; we become what we think. Joy follows a pure thought like a shadow that never leaves."
Though I the reviewer found that my own perceptions were in contrast to Madeline's in the way in which affirmations should be said, I found that this book is a wonderful starter book for those just beginning or wanting to start taking affirmative, positive steps towards the path of forgiving and healing.
~review by Lone Eagle
Author: Madeline Ko-I Bastis
Red Wheel/Weiser, LLC, 2003
pp.107, $12.95
www.peacefuldwelling.org