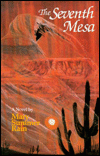 Mary Summer Rain's first work of fiction is suspense laden, intriguing, and will keep readers engrossed. For those who have read the author's "No-Eyes" series, you will not be disappointed with this work.
Skillfully woven, the story revolves around four central characters that are from varying walks of life. All of whom are surreptitiously drawn together for varying reasons by forces unbeknownst to them.
Michael Greystone is an anthropology professor who is led to team up with the other three via his nightmares of an ancient ruin and the presence that guards it. Emmy Winters is a Native American just starting to study anthropology, and is quite knowledgeable about the Starborn. Emmy's ancestors had contact with the Starborn and the teachings were handed down through the generations. Theodore Weatherbee is an anthropologist on the verge of retirement, desiring to make one profound discovery before calling it quits. Karen, Dr. Weatherbee's niece, is also a student of anthropology. Impetuous and unrelenting in her desire to know what the other three are up to, Karen joins them on their journey.
Fraught with perils the four embark on an adventure that takes them far beneath sacred grounds in the New Mexican Desert. What they find there is almost beyond belief. Or is it beyond belief? It is left up to you to decide.
Mythology and mysticism abound in this captivating book, I thoroughly enjoyed reading this book and am pleased to add it to my personal library.
~review by Lone Eagle Eye
Author: Mary Summer Rain
Hampton Roads, 1994