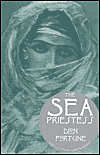 Weiser Books has re-released two of Dion Fortune's most enduring books. Sea Priestess introduces her most powerful fictional character, Vivien Le Fay Morgan, a practicing initiate of the Hermetic Path. Desperately in love with Vivien, Wilfred Maxwell works by her side at an isolated seaside retreat, investigating these occult mysteries and they soon find themselves inextricably drawn to an ancient cult through which they learn the esoteric significance of the magnetic ebb and flow of the moontides. "[This] is a book with an undercurrent; upon the surface, a romance; under-neath a thesis upon the theme: 'All women are Isis, and Isis is all women,' or in the language of modern psychology, the anima-animus principle." (from the Introduction.)
Almost 15 years after she first appeared in Sea Priestess, Dion Fortune wrote about her heroine Vivien Le Fay again in Moon Magic. Here Vivien appears as Lilith Le Fay, and uses her knowledge of moontides to construct an astral temple of Hermetic magic. "The viewpoint of Lilith Le Fay is purely pagan, and she is a rebel against society, bent upon its alteration. She may, of course, represent my Freudian subconscious..." (from the Introduction).
I highly recommend these books for both the quality of their magic as well as the stories told.
~ review by Lisa Mc Sherry
by Dion Fortune
Weiser Books, 2003
$14.95 (each)