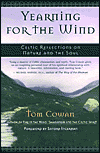 The moment I picked up this book I knew it was going to be something special. It was the first time I had ever read anything by this author, so I did not know quite what to expect. What I found was a book that will be one of the most treasured in my library. I am an avid reader and I have a greatly varied taste in books. Over the years I have found books that spoke to my mind and my heart. However, this is the first that actually spoke to my soul.
The author has a wonderful ability to weave his words in such a way that you feel as if he has cast a spell that allows you to travel along with him through the book. Everything is described so clearly and beautifully that you feel as though you are right there with him. He brings myth alive and teaches the reader to find the beauty and sacredness in everything around us. Every word will inspire you to see things in a new light and seek your own way of knowing.
I had a very difficult time putting Yearning for the Wind down once I got started. This is certainly one of the most enjoyable books I have read in a long time. In fact, I enjoyed it so much that I plan to read more of the author's books. I would highly recommend this book to anyone.

~ review by Jennifer Erwin
Author: Tom Cowan
New World Library, 2003
203 pp., $14.95