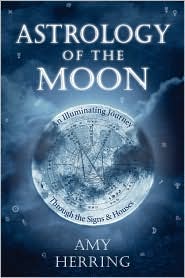 One of the first lessons for an astrology student is learning about moon signs, the zodiacal location of the moon at birth. Where the sun sign describes personality and identity, the moon sign tells about a person's inner emotional life, needs and vulnerabilities, comfort zones and what feels good.

Author Amy Herring's spotlight on the moon will be useful to advanced beginners and intermediate astrologers. Her guide for understanding and interpreting the moon starts with a survey of the natal moon in the twelve signs and houses. The basic characteristics of the moon in the twelve signs and houses are explored, including the domestic conditions and relationship styles that will tend to be the most comfortable and satisfying. Potential problems that can arise if basic lunar needs are thwarted are discussed as well.

In Part II, Herring gives an overview of the progressed moon, a key forecasting tool and an excellent indicator of current personal development. Tips for making the most of any 2.5 year progressed moon sign periods are offered. Possible pitfalls are also included, but generally, this author identifies activities and offers ideas to help the reader learn and grow. The third section explains relationships between the moon and the planets to help the astrologer fine-tune interpretations of the natal and progressed moons.

In the final section of the book, two "Progressed Lunar Journals" are offered. The first outlines the life events of a young man from birth to age 27. The second journal follows a woman's life from age 27 to 55. These journals give an overview of how progressed moons operate, and how the moon's 2.5 year movements from sign to sign indicate shifts in a person's emotional growth and relationships.

As a student of Steven Forrest, Herring writes as a proponent of Evolutionary Astrology, a style of astrological counseling that encourages the individual to use the birth chart as a map for personal development and evolution. Following Forrest's lead, Herring blends common-sense psychology with life coaching in an optimistic manner. Information is organized in a cookbook format and easy to find. Herring's friendly, conversational style conveys the scope of feelings that might be triggered by the moon's position.

Ms. Herring doesn't include instructions on working with transiting lunar cycles or eclipses, another useful forecasting tool. I would have liked to see more charts included in the book with discussions natal moon placement, and bi-wheels with natal and progressed charts to show how to compare and analyze them.

The Moon is an important topic in astrology. A brief scan of a couple of astrology book seller sites – www.astrology-books.com and www.astroamerica.com – reveals that there are dozens of books about the moon, many by top-notch astrology authors including Liz Greene and Howard Sasportas (The Luminaries), Dane Rudhyar (The Lunation Cycle", Donna Cunningham, Jan Spiller, Sasha Fenton, and Sophie Mason. Jungian depth astrologers Greene and Rudhyar are much more advanced and in-depth than Herring, and won't be accessible to most beginners.

Books about the Moon offer different contents and topics and are written in vastly different perspectives and levels of complexity. Before purchasing this book, compare the contents to make sure you're getting the specific information you're seeking in a writing style that works for you.

Astrology of the Moon is a good (but not great) book for readers who are ready to move past general how-to astrology books and develop more in-depth working knowledge about the individual planets. For readers seeking guidance on working with the natal and progressed moon in the Evolutionary Astrology paradigm, this is the book to get.

~Review by Elizabeth Hazel

Author: Amy Herring
Llewellyn Publications, 2010
pp. 286, $21.95.