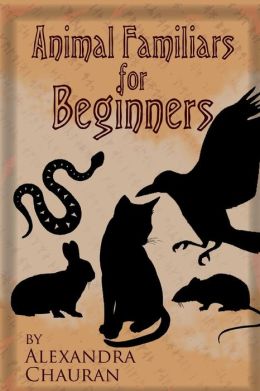 Animal Familiars for Beginners by Alexandra Chauran is unfortunately not a book I can recommend.
From lack of sources to chapters full of quotes and anecdotes rather than information and facts, this book unfortunately gives very little information in the way of animal familiars.  It seems to be more a book where the author talks about a subject that they do show quite a love and devotion to rather than giving any practical how-to information.
The book starts off with some history of animal familiars, although here is where there are no sources, and though there is a bibliography there are no sources listed with the historical information.  Further in the book Chauran lists how to care for animals, again without sources and without listing education on animal care beyond personal experience. The vast majority of the book is information on Wiccan style ritual and rituals themselves, with the glaring lack of a ritual to attract a familiar to you.  There is a chapter on totem animals, with another glaring lack, this time of Native American source material.  There is also quite a lot of basic "Wicca 101" information without any information of working with a familiar.
All in all, I just cannot recommend this book.  While the rituals that comprise most of it could be useful for those witches who do have familiars, the rest of the book really takes away from it.  In the end, skip this one; you can find familiar spells and rituals in other places.
~review by Jessica Elizabeth
Author: Alexandra Chauran
Jupiter Gardens Press, 2013
pp: 151; $14.95