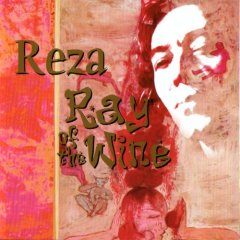 Ray of the Wine brings international music to an interesting place when Persian vocalist and musician Reza teams up with legendary Doors drummer John Densmore.
I find Middle Eastern music earthy and mystical at the same time, so I will enjoy this CD as a meditation tool or as background music for relaxation. Not everyone will feel that way, though. There are selections that are particularly zippy, like Wild Hair, that include electric bass, probably not an instrument you associate with meditation. The title song Ray of the Wine, sounds almost like mix of blues and jazz. Zhaleh caught my interest when I heard the unmistakable sound of a didgeridoo. Surprising to hear in primarily middle eastern-sounding music, but it worked.
There are vocals on this CD, but they are in Farsi. John Densmore's liner notes provide interesting musical details, and they reflect his genuine enthusiasm for the instruments and elements of the tracks. Set your imagination free when it comes to "understanding" the music. Just go with the flow.
~review by Karen Phillipi
Artist: Reza
Stonemountain Entertainment, 2005
43 mins, $12.99