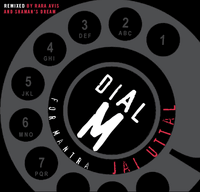 Ritual Tools
Oh yeah . . . this is GOOD stuff. My whole body is grooving in my chair as I write this review, listening to the album for the second time though.
Jai Uttal's music is primarily meditative, using traditional Indian works and updating them with reggae, jazz, and rock. Then Shaman's Dream artist*, Rara Avis got a hold of one of his albums and got funky.
"Ganesha Windmix" the opening song will have you moving your whole body, as will most of the songs. I particularly liked "Jai's Dub Shack" which is nearly hip hop in its sensibility and "Nataraj – Black Phone" with its urban downtempo and funky sitar sound. "Maha Dev" has a hillbilly (yes) feel.
Highly recommended.
~review by Lisa Mc Sherry
Artists: Jai Uttal and Rara Avis
Sounds True, 2007
CD, 62 minutes, $17.98
Ritual Tools
* see our reviews for dance:dream:dance and Kerala Dream .