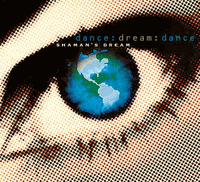 Yes! This is an incredible album – every track is good to great and the dance-based beat had me bouncing in my chair all through the writing of this review. (Note for the future: be choosier about what you want to write about in the office.)
Shaman's Dream is Craig Kohland and Rara Avis. Kohland passion is clearly rhythm. He is a talented multi-percussionist, drummer and world music producer. Avis brings his background in blues, jazz, classical, and ethnic music to the compositions. Together they have created an exuberant, hip-wiggling dance album.
It's funny, dance: dream: dance is being marketed as a multi-indigenous dream space that can be used for yoga. I don't agree. But the website says, "a cross-pollination of musical dance cultures and ambient soundscapes blended with hot electronic dance beats" and *that* I can agree with. This is good stuff. I don't have a favorite track, I like them all. There are no 'downers' or even mediocre songs on this album. Highly recommended.
~review by Lisa Mc Sherry
Artist: Shaman's Dream
Sounds True, 2007
CD, 71 minutes, $17.98